Pescadero Creek Inn Bed and Breakfast Recipes
After ten years of whipping up culinary delights for our guests the cook has retired. Nothing was more gratifying than hearing the 'ohhs' and 'ahhs' when I bought out the plates, especially when the guests said, "Please wait while I get my camera, I must get a picture of the pretty plates".

The last prepping task was to place nasturtium or pansies from the garden to complete the plate.However, all things come to an end and so now I will sleep in a bit more and allow our guest to enjoy the breakfast treats offered by one of the four breakfast options in downtown Pescadero, a short stroll from the inn.

Here are recipes for some of the breakfasts we served. Try them at home, but of course use only organic ingredients! Bon Apetit!
Organic Whole Wheat Puffed Peach Pancakes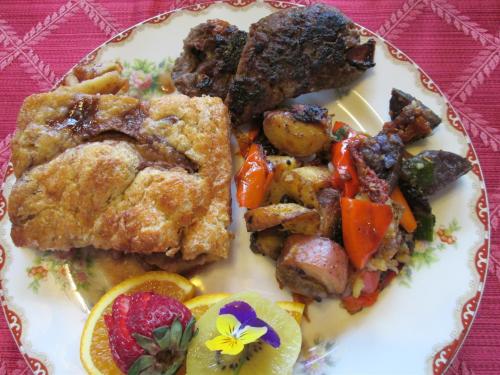 8 Tbls Organic Butter 6-7 Organic White Peaches, sliced 3/4 C. Organic Sugar 2 Tbls. Cinnamon 9 Organic Eggs 1 ½ C. Organic Flour(33%Whole Wheat/33% Whole Wheat White flour) 1 ½ C. Organic Milk Cut peaches into thin slices and sauté in skillet with 7 Tbs. butter until tender (about 40 min) with most of combined sugar and cinnamon. Save 1 Tbs. cinnamon mixture and set aside.Coat 10 X 15 baking dish with butter. Spread apple mixture evenly in bottom. Beat eggs well; Add flour and milk and beat until smooth. Pour this mixture over apples and bake in pre-heated 400 oven for 15 minutes. Remove from oven and dot with remaining tbls butter. Sprinkle with 1 Tbs. cinnamon/sugar mixture. Return to oven for another 10-15 minutes or until puffed. Serves 8
Ken's Uptown Pescadero Hash Browns
3 Lbs Organic potatoes (approx) ¼-½" diced(small red, white, fingerling and Yukon gold) ¼ Large Organic Onion, sliced and quartered ½ Sweet Organic Green Pepper, sliced ½ Sweet OrganicRed Pepper, sliced 2 Tbs dried tomatoes, marinated in olive oil 1/4 Cup Organic Green Onios, chopped 7-9 Large Organic Mushrooms (button &/or Crimini) sliced 3 Tbs  Organic Olive Oil 3 Tbs Organic Coconut Oil ¼ Cup Organic Parsley Salt and pepper to taste (Heavy on the Pepper) In a large fry pan add oil, some salt, pepper and potatoes over medium heat. Cook covered for about 15 minutes, taking care not to burn but do not turn the potatoes. Then add the remaining chopped ingredients EXCEPT the sun dried tomatoes, green onions and parsley, stir, cover the pan and let cook for about 40 minutes, until potatoes become a little mushy. Uncover and add sun dried tomatoes, green onions and parsley and cook on low heat for 10 minutes. Serves 6-8
Caramel Apple French Toast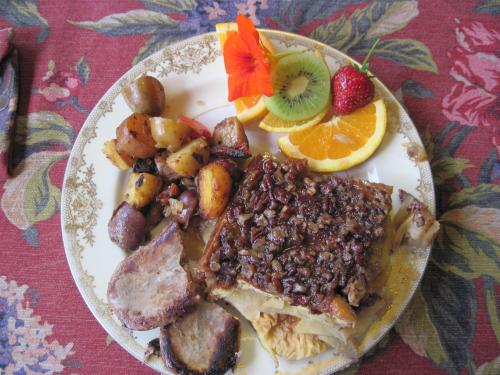 12 slices SWEET French bread (I use Cinnamon Buns from Pescadero's Norm's Bakery) 9 large tart organic Granny Smith apples, peeled and thinly sliced 1 stick organic butter 1-cup organic brown sugar 3 tbls Karo syrup 1 cup organic chopped pecans6 organic eggs 1 ½ cup organic milk 1 tsp vanilla extract Cinnamon to taste Nutmeg to taste Serve with real maple syrup Melt butter is a saucepan over medium heat. Stirring constantly add brown sugar and Karo syrup. Just before it comes to a boil pour into a greased 9X13 glass baking dish. Sprinkle with pecans.In a bowl, beat eggs, milk and vanilla with a mixer until frothy. Dip 6 slices of bread in egg mixture and arrange on top of the pecans/brown sugar in the baking dish. Top with apples PILED HIGH.Dip the remaining 6 slices of bread in egg mixture and align over the bottom layer of bread atop apples. Pour remaining egg batter over bread. Sprinkle with cinnamon and nutmeg, cover and refrigerate over-night. The next day bake at 350 degrees for one hour. Cut into six pieces and place pecan side up on plate to serve.
Basil Yogurt Frittata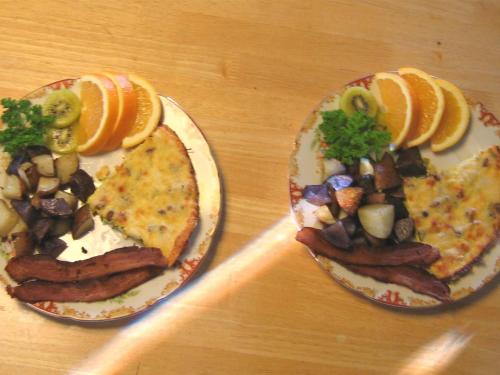 Makes 3 to 4 servings 2 Tbls organic butter, divided ¼ C thinly sliced organic green onions (or chives) ½ C plain organic yogurt 6 organic eggs, divided salt & pepper to taste 1/3 C chopped fresh organic basil 1 tbs organic pine nuts, lightly toasted ½ C grated organic Parmesan cheese Preheat oven to 500F. Melt 1 tbls butter in an ovenproof, 10-inch skillet with sloping sides over medium heat. Add green onions and cook until soft. In a bowl, beat yogurt with 2 eggs. Beat in remaining eggs, 2 at a time, until blended. Add salt, pepper, and basil. Add remaining 1 tbls butter to green onions/chives in skillet; heat until melted. Pour egg mixture over green onions. Cook for about 5 minutes, until are softly set but still moist. Sprinkle pine nuts over eggs. Remove from heat. Sprinkle Parmesan cheese over all. Transfer skillet to oven and bake until cheese is golden brown. Cut into slices and serve immediately. Serves 4 For larger serving, use 10 eggs, a little more basil, chives or green onions and ¾ cup yogurt and cheese. Cook in 13" skillet. Serves 8
Rosemary Garlic Roasted Potatoes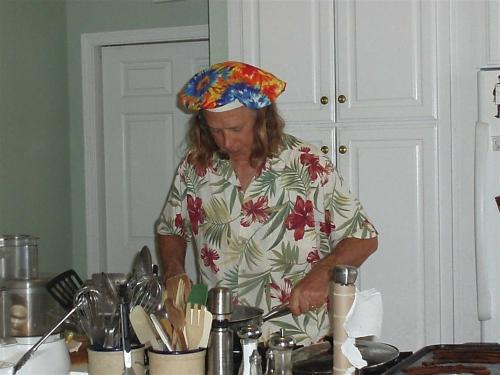 3 Lbs Organic potatoes 3/4" diced (small red, white, fingerling and Yukon gold) 2 Tbs chopped Organic garlic 5-7 large sprigs Organic rosemary 2 Tbs garlic Organic Olive Oil Salt & Pepper to taste Preheat oven to 350 degrees. In a large bowl mix potatoes, oil and garlic. Spread the rosemary to cover bottom of 9"x13" Pyrex dish and cover with the potatoes. Roast in oven for 60 minutes, adding salt and pepper and 'shaking" the potatoes after 30 minutes. Serves 6
Pescadero Eggs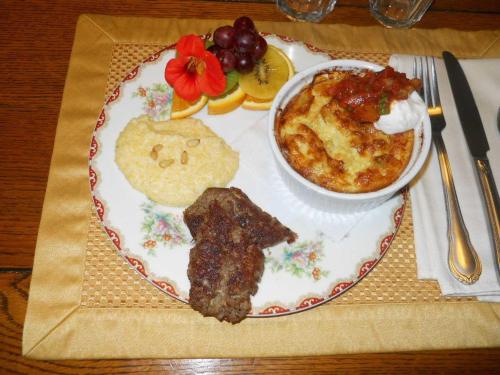 8 Oz. Organic Cottage Cheese, small curd 5 Organic Eggs, slightly beaten 4 Oz. Can diced green chiles, drained 2 Cups Organic Cheddar Cheese, shredded 2 Tbs. Organic Flour 2 Tbs. Organic Butter, melted 1/2 Tsp. Baking Powder Combine all ingredients. Pour into four 4 1/2 inch greased ramekins. Bake at 400degrees for 15 minutes.  Reduce oven to 350 degrees and continue baking for 15 minutes. Serve with organic sour cream and salsa.  Serves 4.